Financial audit software CLOUD
The platform that makes easier the financial audit work for your firm.
ASD Auditor CLOUD is the most financial audit software powerful and modern financial .
Developed with web technology, allow your audit team to a access from any browser to create the audit projects in a safe, collaborative and efficient way.
A POWERFUL, MODERN AND EFECTIVE SOLUTION
Analysis of financial information, elaboration and execution of the audit works all in one place.
INCREASE THE PRODUCTIVITY
Save time in the the excution of the audit works. Forget about complex processes of financial import information of your customers due to the powerful processing, search tolls and filtering information.
Forget about the informatic complications: Contract and mantain a server, computer support, back-up copies, etc. Start using our Cloud solution to focus on your work as auditor. Cooperate with your team in the audit projects or send and receive information of your customers in a secure and confidential way.
Keep your fim safe of penalties and possible administrative contingencies. ASD Auditor Cloud is developed on the basis of the international Standards on Auditing (ISA).
manage the quality audit projects
Analyse your future customers and their risks before accept the projects and its continuity Make visible the state of each project and distribute the workload assigning rols for your audit team to create your work calendar, schedule and tasks. Control the hours and the imputed costs in each project.
COLLABORATIVE WORK:
CONNECT YOUR FIRM WITH YOUR TEAM AND CUSTOMERS
Increase the productivity using a team working in a shared workspace.
Functionalities that help you to save time

Firm configuration: Categories and personnel
Manage your firm with the option to register multiple offices. You can manage resources, making it possible to create professional categories and access control
Manage all stages of your business right from the start, with the creation of budgets and projects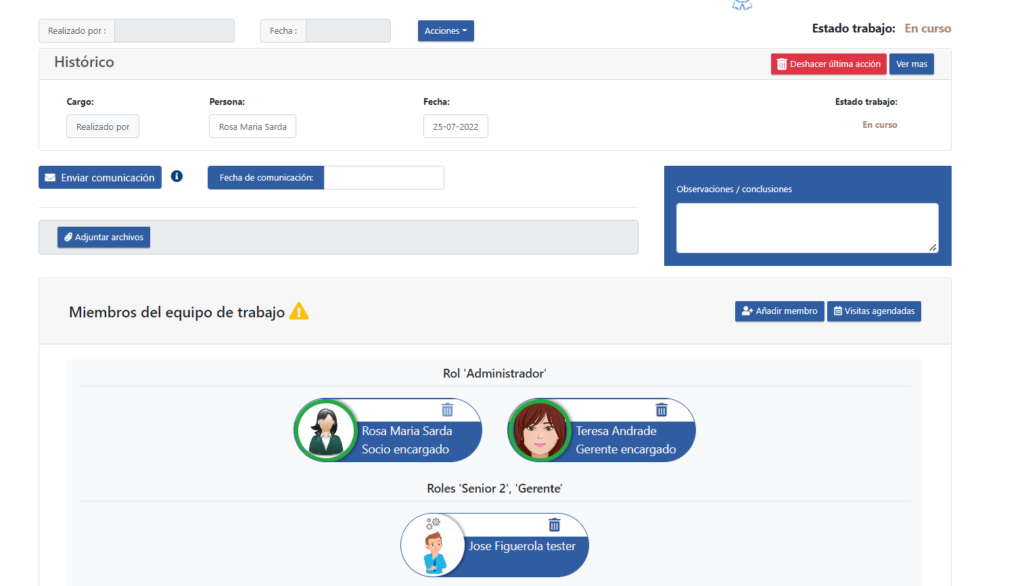 Management of work teams and resources
The software makes it possible to assign the project to personnel according to their professional category and experience, allowing wisits and tasks to be created automatically.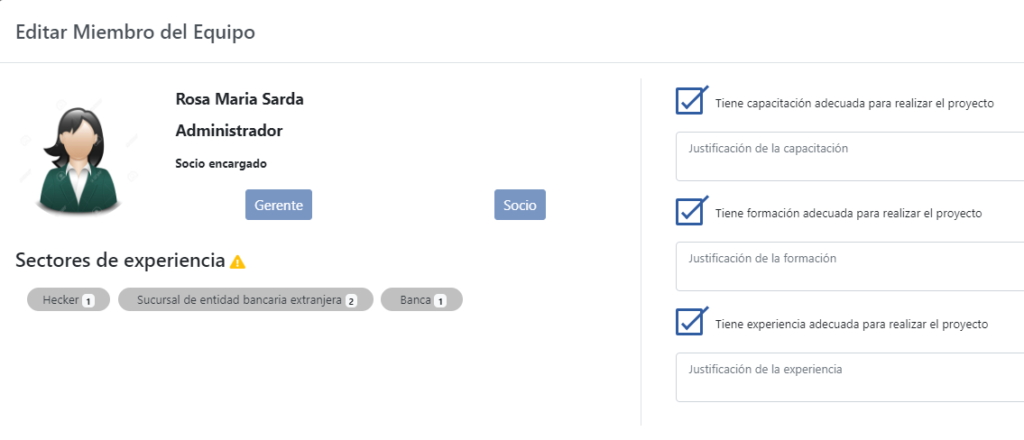 Acceptance and continuity of customer relationships
Evaluation of the acceptance risk concerning the task and of money laundering for the implementation of the project, including questionnaires and risk calculation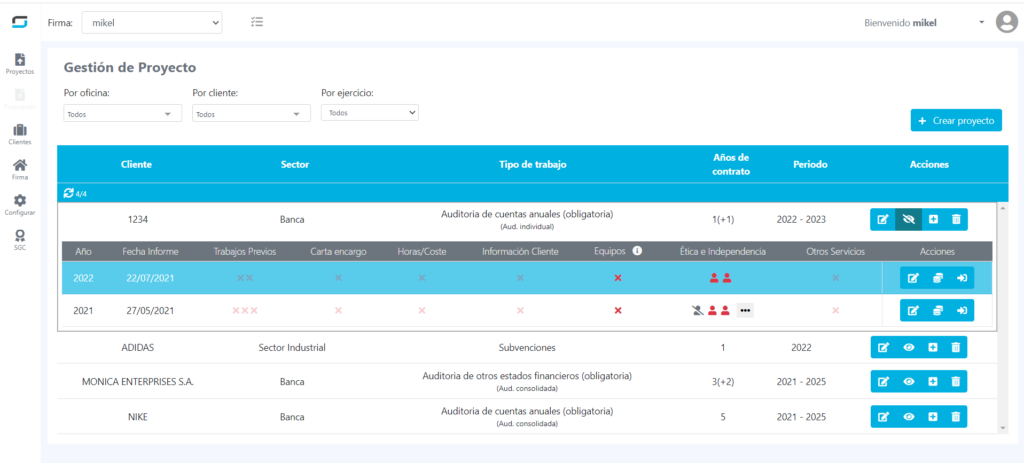 Assignment of tasks, times and costs by project and user
You can assign and receive tasks that are recorded in the user schedules, allocating the hours and costs that will accumulate in the financial year once they have been approved.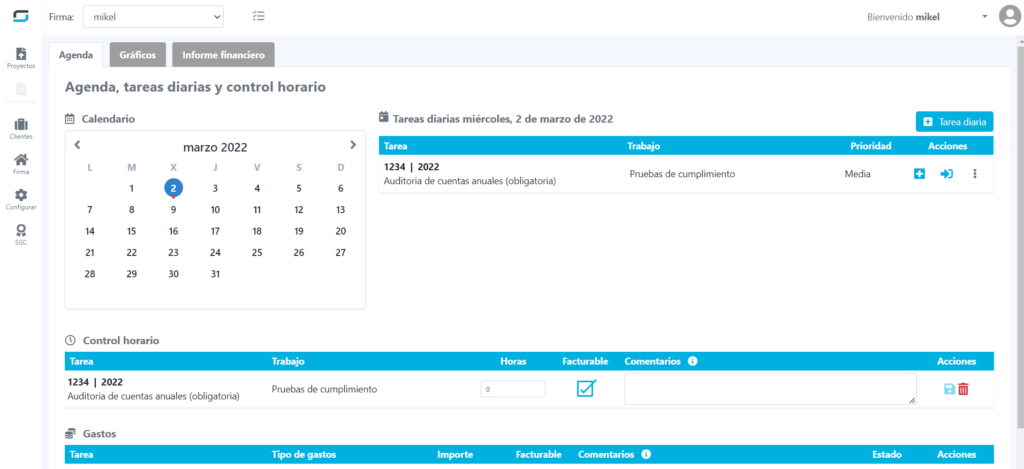 Customizable library: Questionnaires
Complete adaptation of the risk levels and questionnaire types of the firm, making it possible to predefine the standard questionnaires and make these multi-lingual.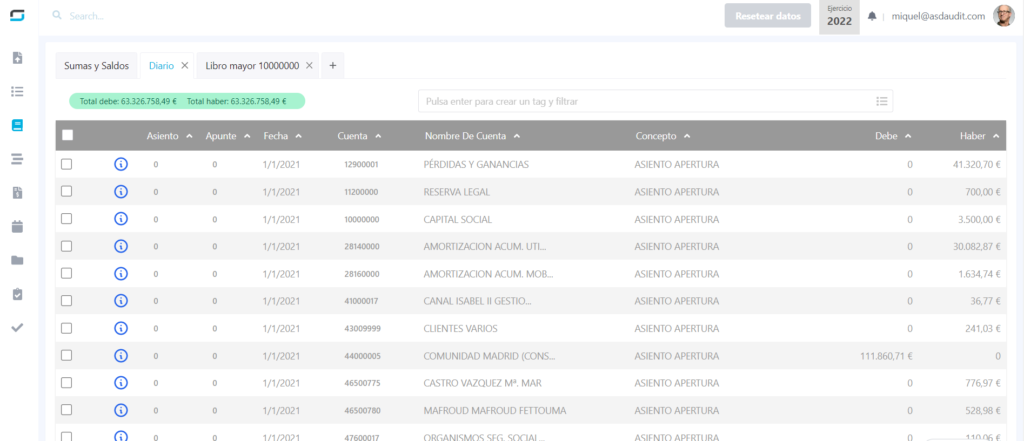 Importation of journals, amounts and balances and general ledgers
Quick importation of journals, assignment of fields and elimination of intelligent lines.
You will be able to import amounts and balances and later replace accounts for general ledgers
Filters and straightforward searches
Filter application and quick and intelligent orders to journal lists, amounts and balances and general ledgers subsequent exportaion to Excel.
Automatic generation of financial statements
Automatic calculation and exportation to Excel of the financial statements based on the data uploaded and consultation of the entry lines with just one click
Easy importation of accounting plan and balance sheets
Possibility to import any accounting plan and balance sheets to use in a financial year from a simple importation in Excel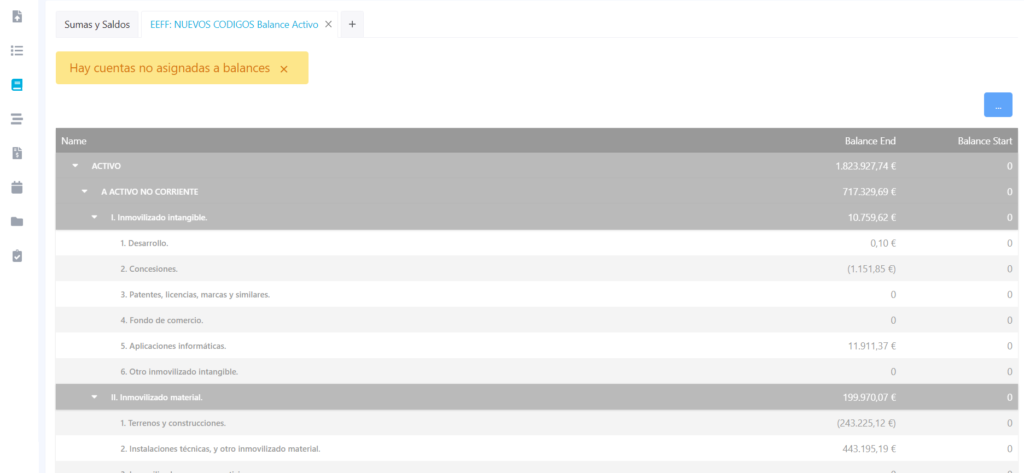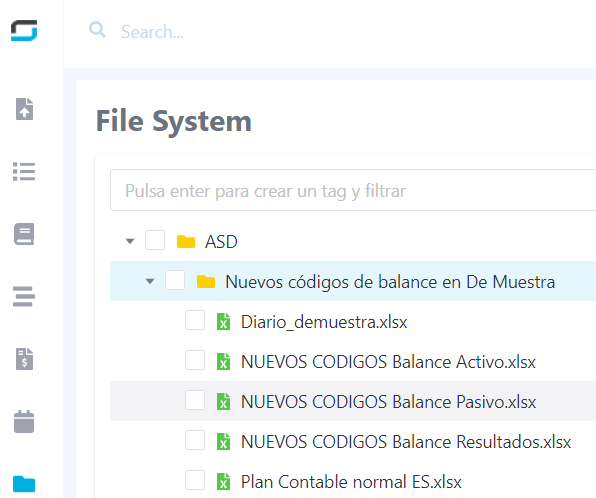 Organization of all the documentation of the firm and of the projects in Cloud storage, making it possible to upload any type of file and folder.
ASD Auditor Cloud is for your firm if some of theses conditions are fullfilled:
STANDARD
CONFIGURE YOUR AUDIT FIRM

Management of staff and job categories

QUALITY MANAGEMENT OF THE FIRM

Work calendar, schedule, costs of the audit projects

Register of hours and costs of the audit project

BASIC QUALITY MANAGEMENT OF THE PROJECTS

Management of risk customer acceptance

Library personalized of questionnaires

MANAGEMENT OF AUDIT PROJECTS

Automatic generation of the financial statements

Library of spain accounting plans

WORK YOUR AUDIT PROJECTS WITH EXCEL

Exportation of trial balance monthly

Exportation selected larger

Exportation financial statements
ADVANCED
All the functionalities of the standard version +
ADVANCED MANAGEMENT OF THE AUDIT PROJECTS

Calculation of relative importance (materiality)

Risk assessment by project

Allocation/detection of risks in financial statements

Editing and exportation of Risks

Creation of working papers by grouping into cycles

Automatic creation of Summaries
PRO
All the functionalities of the advanced version +
PRO MANAGEMENT OF THE AUDIT PROJECTS
Complete your audit software with your Quality management software for your audit firm
ASD QUALITY MANAGEMENT
Obey the requirements of ISQM1
Configuration and independence evaluation

Links firms and member, administration of proposals, external communications
Customers
satisfied
quiet
secure
"With ASD Auditor in our work team, we have managed to unify the audit software and now we can evaluate uniformly the work quality of our equipments. Moreover, we can work in a collaborative manner in different audit financial projects."
"With ASD Auditor we have got digitalize all the audit work integrated into one platform from start to finish all the working audit cycle of the financial audit. "
"With ASD Auditor we have reduced all the execution time of the audit work.
This platform has allow us to improve the financial data processing of our customers and improve the quality of our work. "